We're Getting Mutants in the MCU - The Loop
Play Sound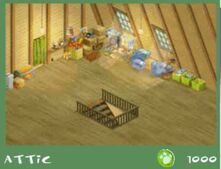 The Attic was a purchasable room for your Cub Condo in Bearville. It cost 1000 Bear Bills and could be purchased at the LumBear Yard. The Attic was the cheapest purchasable room for your Condo.
The Attic was a room where users could store things that they didn't want in any of their other rooms or in their inventory. The walls and floor could not be changed in terms of colour or pattern, making it less customisable than all of the other rooms for your Cub Condo, though users could add any furniture they wanted.
The Attic was on the upper level of the condo alongside the Rooftop, Furry Friend Rooms and the Balcony. Overall, the attic was mainly just for storing items that you didn't want to keep in your inventory.
Contents of the Attic
There was a Clothing rack at the back of the attic which the user could click on. When hovering over the rack, the word 'Clothing' appeared; once you clicked on it, it came up with two separate menus, one showing your 'My Stuff' clothing items and the other showing the clothing you had put in storage.
If you put your clothing in storage, it would no longer show up in your inventory and therefore you could not use these items until they were moved back.
If you clicked on the little shelf under the clothing rack, it would take you to a similar menu, though this was for Accessories instead of clothing items.
If you clicked on the green wooden door on the left wall, it would take you a menu for Furniture items.
If you clicked on the treasure chest on the left wall next to the green door, it would take you to a menu for 'Bear Stuff' which had all of your bear clothing, Rides and accessories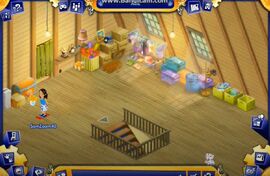 If you clicked on the box on the right wall with wallpapers coming out of it, it would take you to a menu for 'Wallpapers and

Carpets

'. This could also include any wall or floor decor that you wanted to keep in storage.
Finally, if you clicked on the group of colourful boxes on the right wall next to the clothing hanger, it would bring up a menu for 'special items', which was for anything that didn't fit into the other categories. This could be Seeds for the garden, rides, work uniforms etc.