Bearville Outfitters was a store that users could buy a variety of different items from in BuildaBearville; it was located in
Town Square
alongside the
Bear Stuff Store
,
the
Bearville News Network
and the
Build-A-Bearville Workshop
.
Bearville Outfitters had three different floors to it, though each floor had the exact same catalog with the exact same items for people to choose from.
Users could click on any of the three paw prints on any of the three floors to access the Bearville Outfitters catalog.
The 1st floor of the store was mainly themed to clothing items and accessories. The 2nd floor promoted the Rides that users could buy with Credits. The 3rd floor was mainly furniture items and miscellaneous items for your Cub Condo.
The catalog had 7 different sections: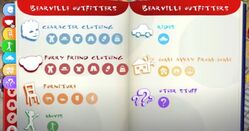 The Bearville Outfitters store included items that could be bought ONLY with Credits and was one of the main stores to get many different items in Bearville. This was likely why Credits became known as Bearville Outfitters Credits later on.
Alongside the main entrance at Town Square, users could also access Bearville Outfitters from the Bearville Outfitters Rooftop; they could slide down a pole on the rooftop which led them to the third floor of the building.
Before it was known as Bearville Outfitters, this building used to be called the Bear Boutique and was decorated very differently to the newer building. At the time, this was only a clothing store, though everything was still sold in Credits.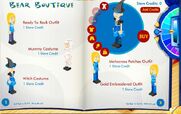 The design of the catalog was also much different back then; instead of a menu at the left of the catalog to choose what you wanted to look at, the menu was around your character. There was still a colour wheel to change each outfit to whatever you preferred.
Community content is available under
CC-BY-SA
unless otherwise noted.