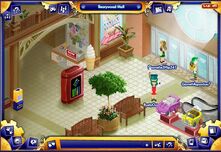 The Bearywood Mall was a shopping center that users could visit and purchase from in Bearville. It was located in the Market Place alongside the LumBear Yard and Store Fur All Seasons.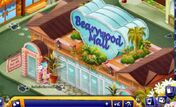 There were four different sections to the mall; the Clothing Store, the Accessories Store, the Art Studio and the Ice Cream Parlour. Users could get 'jobs' at any of these four locations and earn Bear Bills to spend on clothing or furniture items. There was also the option for users to create their own items and purchase them; this allowed for some creative freedom on what clothing items and accessories your character could wear. It also allowed for users to create their own room decor for their Cub Condo.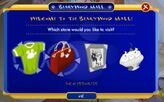 To visit one of the stores, users had to click on the red board that was located in the main entrance of the mall. Clicking this would bring up a menu to choose which store of the four that you wanted to go to.
Trivia
Users that were there for the grand opening of the mall recieved a 'Grand Opening Balloon' in their inventory
Users could make their character sit in either of the two cars to the right of the front entrance; these were interactive rides and sitting down in them triggered them to move back and forth.
In April 2010, the Blossom Bunny showed up in the mall with a Flower Stall. Users could purchase exclusive flower accessories and Condo items from here.
Stores