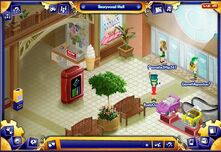 The Bearywood Mall was a shopping center that users could visit and purchase from on BuildaBearville.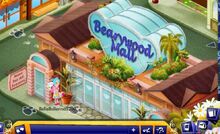 It was located in the Market Place alongside the LumBear Yard and the Store Fur All Seasons. It wasn't part of the original line of shops for Bearville; the mall first opened in March 2010 after being under construction from 2008.

If users were online for the grand opening of the Bearywood Mall in 2010, they could get a special prize. This prize was a 'Grand Opening' balloon that was placed in your inventory to be used as a furniture item in your Cub Condo. This was a limited edition item and was only available for the grand opening. There were four different sections to the mall; the Clothing Store, the Accessories Store, the Art Studio and the Ice Cream Parlour. Users could get jobs at any of these four locations and earn Bear Bills to spend on clothing or furniture items. Here, users could make and buy any of the items that were available; this allowed for some creative freedom on what clothing items and accessories your character could wear. It also allowed for users to create their own room decor for their Cub Condo, once again allowing for creative freedom.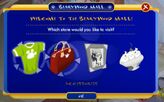 To visit one of the stores, users had to click on this red board that was located near the main entrance of the mall. Clicking this would bring up a menu to choose which store of the four that you wanted to go to. Users could click on any of the four then had to press 'Ok' at the bottom of the menu to teleport to that store.
A fun little secret in the Bearywood Mall entrance was these cars; these were actually small little rides that your character could sit down in; sitting down in them triggered them to move back and forth like a typical childrens' ride would in the mall. These were located near the escalator on the right side of the screen.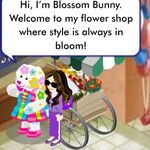 In April of 2010 when Easter was being celebrated, the Blossom Bunny Bear had just been released in the BABW, therefore to promote the bear they had a virtual version stood inside the entrance of the mall. By clicking on the bunny, a menu would pop up which allowed users to purchase a range of different flowers to plant and harvest in their Cub Condo. Users could plant these in any room with soil; this could be the front entrance of their condo, the Sun Room, the Backyard and more, depending on their preference.
There were a range of seeds available to buy from the bunny, all of which were 50 Bear Bills each:
Chrysanthemum
Daisy
Daffodil
Iris
Lily of the Valley
Rose
Narcissus
Tulip
Peony
Violet
Jonquil
Lilac, Rose, Aster, Spring, Blossom or Fresh Bouquets
Daffodil, Peony, Rose, Iris, Carnation or Aster Flowerpots
There were also several decor items for your Cub Condo, such as a flamingo statue or a garden gazebo.
Community content is available under
CC-BY-SA
unless otherwise noted.