Jurassic World: Dominion Dominates Fandom Wikis - The Loop
Play Sound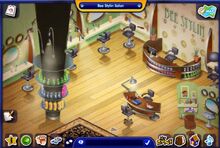 The Bee Stylin' Salon was a place in Bearville located in the Furbulous Fashion District alongside the Coffee Shop, Pawlette's Coufur Boutique and the Theater.

This was the place that users could go to completely change the appearance of their character in terms of hair and facial features. There were also two minigames in the salon that could be played by users.

To change your characters' look, users had to click on the hairdryer to the right of the screen. By clicking this, a new screen would pop up which allowed you to change your character appearance.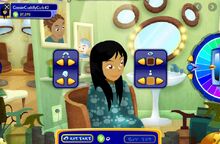 Your character would then be seated in a salon chair in the middle of the screen with a bear style robe on. From here, there were four different sections that users could click on to change something on your character. The first one was hair; there were many different styles of hair for both boys and girls. Alongside this, you could also colour your hair whatever colour you liked by using the colour wheel on the right side of the screen.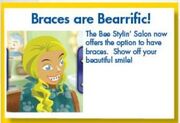 The section below the hairstyles was the facial features; clicking the arrows on this completely changed the characters' face in terms of lips, eye shape, makeup, nose, eyebrows and one look even allowed your character to have braces. There were many different facial features to choose from, though you couldn't mix and match these features, they all came as one complete look.
On the right of your character there were two more sections; these were to change the colour of your characters' eyes and skin tone. There were many different eye and skin colours to choose from, allowing you to be creative. You could also change these at any times.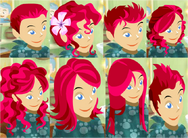 Every change in the Bee Stylin' Salon that you did to your character cost 50 Bear Bills each. For example, if you bought a new hairstyle AND a new eye colour, this would cost you 100 Bear Bills in total. Even if you had previously purchased a specific item, you would still have to pay for it again if you chose to change back to it.
The Bee Stylin' Salon also had two minigames to offer to users; these were the Beariffic Nail Care and Be A Stylist minigames. Playing both of these games would earn the user Bear Bills that could be spent on anything around Bearville.
Minigames