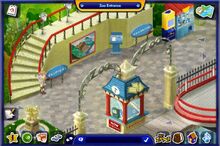 The Build-A-Bearville Zoo (or Bearville Zoo after the site changed) was a place that users could go to and explore different animals, work a shift to earn Bear Bills or play different minigames. There were many different areas to the zoo which allowed for a full experience of all the different climates and types of animals.

The Zoo first opened at the beginning of 2010 alongside the reveal of the new zoo-themed stuffed animals in the BABW. These could also be brought to life in game, and each Furry Friend came with a different exclusive ride for your character. It was located to the left of the Sandy Bear Island and could be reached in a couple of different ways.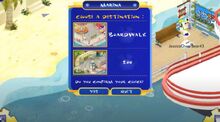 Firstly, you could access it by clicking on it on the Bearville map, but you could also get the Ferry from Sunshine Shores Marina to head over to the zoo too.
The zoo was originally only open for all members for a few days, though soon after it was only open for V.I.B access, meaning that normal users of Bearville could not access it - they could access the entrance, though could not walk any further around the zoo. Even if members weren't V.I.B, they could also access the zoo by purchasing one of the Furry Friends during a certain timeframe. This made it very exclusive and hard to get access to. It officially opened to the public on May 28th 2010.

When users first went to the zoo, they recieved a poster for their Cub Condo; this was a framed map of the zoo which could be clicked on. If you clicked on it, a larger pop up of the map would show up on your screen which told you the names of all the different locations around the area.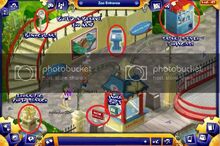 At the Zoo Entrance, there were many different things that you could do. You could play the minigames Zooriffic Photo Search or Zoo Babies, start a job as a Zookeeper, click the binoculars to get an in-depth view of what it was like to work there, click the map to get a blown up version of it, click the blue machine to vote in a poll of what your favourite zoo animal is, and click on the vending machine to unlock items.
To use the vending machine, users had to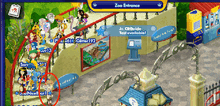 purchase clothing/accessories from the zoo line at BABW and type in the receipt code; whatever you had bought in person could be unlocked for your character too.
The other areas that users could access at the zoo were:
Minigames (Zoo Entrance)
Edit
Community content is available under
CC-BY-SA
unless otherwise noted.