Jurassic World: Dominion Dominates Fandom Wikis - The Loop
Play Sound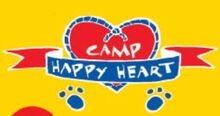 Camp Happy Heart was a virtual camp that users could take part in whilst playing Bearville; it was an annual camp that appeared in June-July every year from 2008-2014.
Each year, users could sign up to Camp Happy Heart by heading over to the main base for the camp, the Waterfall and Floating Cabin. To sign up for the camp, users had to either click on the clipboard on the outside of the cabin or go inside the cabin.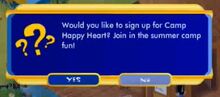 Users would get a notification asking if they would like to sign up for the camp; clicking yes would automatically assign them to one of the teams. Users didn't get to choose which team they were assigned for and could not switch teams throughout the camp.

Once users had signed up, the email linked to the corresponding Bearville account would get an email describing what the camp was about.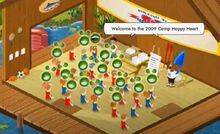 Straight after users had been assigned to a team, they would be teleported inside of the Floating Cabin for an introduction and explanation of what was going to happen for the next few weeks. Users had to complete daily tasks in order to earn points for their team; by the end of the camp, the team with the most points won special prizes!
Tasks that users had to complete involved minigames and such; there were even a few minigames that were exclusive to the camp, such as Jump Rope.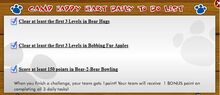 Users would only get a few tasks to do each day, and once they had been completed they would be checked off of a task list. Users also got special shirts/items for free based on which team they were in so that they could show off their team.
There was a different theme for the camp each year; to see these themes click on the links below:
Camp Happy Heart Themes (Each Year)