Jurassic World: Dominion Dominates Fandom Wikis - The Loop
Play Sound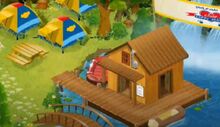 Camp Happy Heart 2009 was the second annual summer camp in Bearville; this was the year that decisions were solidified as to what and where the camp was going to be.

Unlike 2008, this year only had two different teams that users could be assigned to: Beary Blue and Rockin' Red! To sign up for the camp, users had to go and talk to one of the two camp leaders that year; the leaders for 2009 were MiguelSunshine and Brown Sugar Puppy.
Instead of being based at Friendship Forest Park like in 2008, this year the camp was based at the Waterfall and Floating Cabin. This decision became permanent for all camps afterwards. It ran from the 1st of July till the 31st and all information was covered in the Bearville Times.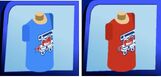 Users all got a free Camp Happy Heart shirt for their character; users on the Beary Blue team got a blue shirt whereas users on the Rockin' Red team got a red shirt. You could wear these shirts at any time to show off your team!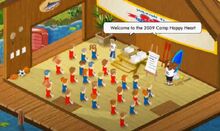 When users first agreed to sign up for the camp; there was an introduction inside the Floating Cabin with MiguelSunshine and Brown Sugar Puppy; they explained all of the information about the camp.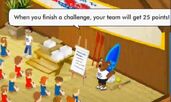 Each challenge you completed earned your team 25 points; if you finished all of your tasks for the day, you earned ANOTHER bonus 25 points for the team! Users could click on the clipboard outside of the cabin to see how their team was doing.
Users got three tasks to complete each day to earn points; in total, users could earn 100 points a day for their team. There were also two new minigames for this camp which ended up being permenant editions: Bearrific Burgers and Marshmallow Roasting!
Results
The scoreboard was close throughout the entire camp, however by the end there was a clear winner: the Beary Blue team! Both teams ended up winning some prizes:

Rockin' Red team won an animated campfire for their Cub Condo

Beary Blue team won a water themed emoticon, a CHH themed swimming cap, a CHH themed pool for their Cub Condo and the animated campfire.