Jurassic World: Dominion Dominates Fandom Wikis - The Loop
Play Sound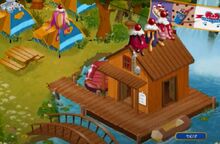 Camp Happy Heart 2011 was the fourth annual summer camp of Bearville; it started on the 1st of July 2011 and ran through the summer. It was based at the Waterfall and Floating Cabin, both of which were completely decorated for the camp.

There were four different teams for the camp in 2011; they were based on the new Blizzard Bears in BABW. These teams were:

Once users signed up for the camp, they would be randomly assigned to one of the four teams. In doing this, you would receive a free Camp Happy Heart shirt for your character, a blizzard emoticon depending on what team you were assigned to, and a special move for your character.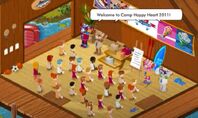 When the camp began, users had to go to a special introduction and explanation of the camp; this was inside the Floating Cabin and all four of the Blizzard Bears were describing everything about the camp. This was a cutscene that could be skipped.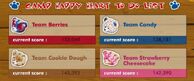 Users could check how each team was doing in the camp by clicking on the clipboard at the Floating Cabin; each team was displayed alongside their team score.
To promote the Blizzard bears running the camp, special ice cream carts themed to eat bear were placed around the world. Clicking on these teleported you straight to the Ice Cream Parlour at the Bearywood Mall!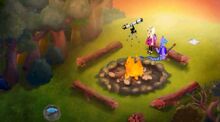 The Waterfall Mountain was another main area of this camp in 2011; users could go there to view the fireworks in celebration of the camp.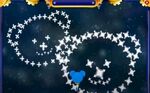 Clicking on the telescope brought up a new screen which had a short firework display. This cutscene could not be skipped once you clicked on it.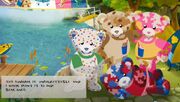 Clicking on the envelope at the back of the mountain brought up a little story of the Blizzard Bears; this could be printed of by the user and turned into a 'card'. The story showed the bears hanging out at the camp and making new friends.
Results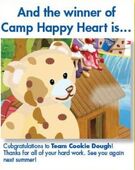 The camp ended at the end of July 2011; each team won at least one prize from competing in the camp, though the winners earned the most.
1st Place - Team Cookie Dough (Prizes: Camp Happy Heart 2011 trophy, Waterfall Slide for your Condo, CHH Treasure Chest and an Ice Cream)
3rd Place - Team Candy
4th Place - Team Berries
Gallery