The City Garden was an area in Bearville that users could visit; they could also purchase their own City Garden or visit other people's gardens by clicking on the empty soil patch on the right of the screen.

The City Garden was surrounded by areas such as the Path, the Farm, the Entrance and the Meadow; however, only one of these could be accessed from the City Garden. The one area that led to the garden was the Meadow, and the one grey arrow at the garden led to that.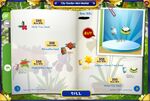 If you clicked on the small market stall with a white and red top, you would be brought to the City Garden Mini Market catalog; here, users could purchase all different kinds of plants and Seeds to plant in their garden. These often ranged in price from 100 Bear Bills to around 300 Bear Bills, depending on the plant.

Once users clicked on the empty soil patch at the public City Garden, a menu would pop up asking if you wanted to go to your garden, visit a friend's garden, look at options or purchase a garden if you hadn't already.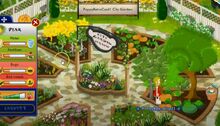 Once you chose to go to your garden, a little banner would appear stating it was your garden and all of the plants would now be your own plants. If you didn't have anything planted, all of the soil patches would be empty.
If you clicked on one of your plants, a menu would show up at the side which showed what you needed to do to care for your plant at that moment; the bottom bar let you know which level you were on with that plant. Once you reached the fifth level, you could harvest your plant.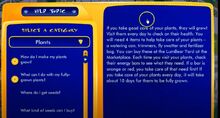 If you clicked on the question mark section at the top of the plant menu, you could look at all of the tips to help with your plants and your City Garden. These were lots of frequently asked questions to allow you to understand it better if you were confused.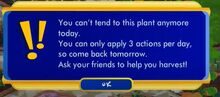 You could only care for your plant with 3 actions a day; once you had done these 3 actions, you had to wait till the next day, or get a friend to come to your garden and help care for the plant too.
If you harvested a plant that had fruits, such as an orange tree, you would get a basket full of that specific fruit that you could place anywhere inside your Cub Condo. However, you couldn't eat these oranges, they were just for display.