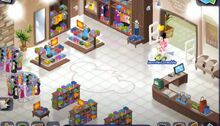 The Clothing Store was a store on BuildaBearville located in the Bearywood Mall in the Market Place. Users could go here to create their own clothing or start a work shift to earn Bear Bills. The store was full of lots of different clothing racks and also had a mirror on the left wall, though this wasn't usable by your character.

The Clothing Store was the first option on the list of 4 different stores in the mall; the others were the Accessories Store, the Ice Cream Parlour and the Art Studio. By creating new clothes at the Clothing Store, users could improve their Fashion Badge in their CyBearZone in order to try and level up and obtain new prizes.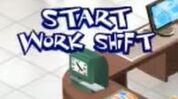 By clicking on the green clock on the front desk, users could begin a work shift at the Clothing Store. The longer users stayed on the shift and the more people that they served, the more Bear Bills they could earn.

If users didn't want to work at the store and only wanted to buy clothes, they could click on the catalog next to the work shift clock that said 'Make your own stuff'. By clicking this, a new screen popped up which allowed for users to choose from a range of different clothing items, colours and patterns to personalise their items.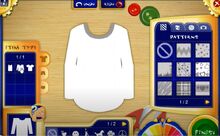 There were 3 different shirts, 4 different pants and 1 style of skirt that users could choose to personalise for their character. If users got confused by what to do, they could click on the little
Pawlette
face near the bottom left of the screen and Pawlette would give you instructions on what to do. There was a colour wheel to choose exactly what colour you wanted the item, an 'undo' and 'redo' button in case you went wrong, and a 'Finish' button to click once you were happy with your design.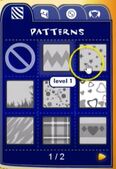 There were many different patterns to choose from that would be displayed all over your shirt. For shirts, you could also choose to have different styles of pockets, buttons and collars to personalise it to your liking.

There were a range of little symbols that users could add to any of their clothing items; these would appear in the center of the item and could be colour-customised to whatever you wanted.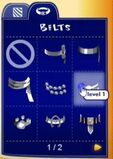 Users could also choose from a range of different belts for the pants and the skirts. These could also be coloured to whatever users wanted. Once the product was exactly how you wanted it, you could click the Finish button to complete the product and you could then choose to purchase it for a certain amount of Bear Bills, as these weren't free to make.
-
Minigames
Edit
Community content is available under
CC-BY-SA
unless otherwise noted.