The Cloud Room was a room that users could unlock for their Cub Condo in BuildaBearville. This was a limited edition room that first became available in April 2013 and was only available to unlock for a few weeks up until May 6th 2013.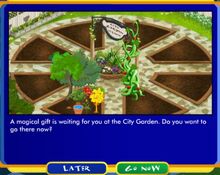 When users logged onto Bearville, a notification popped up asking them to go to the City Garden for a 'magical gift'. From here, users were given a magic bean seed that they had to look after and harvest before May 6th. If users didn't manage to finish this task by the deadline, they could not unlock the Cloud Room. If they did complete the task, the notification stated they would win 3 rare prizes.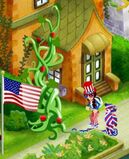 The seed would appear in the user's inventory and they had to grow it in time. Once the seed was completely grown, a notification screen popped up showing the three rare gifts that users had won: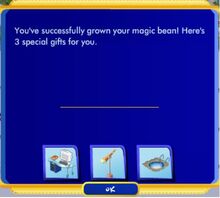 Users won a telescope, a in-ground jacuzzi style pool and a desk with a computer. Alongside this, they also won the Cloud Room for their Cub Condo. You couldn't customise the colour or pattern of the cloud, though users could add their own furniture to the room to make it as personalised at they wished.
After unlocking the Cloud Room, buying any seed from the City Garden Mini Market, the Barn or the LumBear Yard gave users a chance of winning special edition Cloud-themed furniture for their room.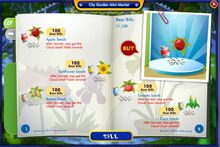 In the catalog, red writing would appear under each of the seeds stating which special cloud furniture they could win by planting and harvesting the seed. There was a large range of cloud furniture that could be unlocked. You could also get these gifts from plants you already owned and that were already growing in your Condo, as long as you had unlocked the Cloud Room.
Each seed unlocked different cloud furniture:
Rose Bush and Evergreen Tree seeds unlocked the Cloud Lamp
Green Apple Tree seeds unlocked the Cloud Kitchen Table
Red Apple Tree and Sunflower seeds unlocked the Cloud Small Table
Disco Ball Tree seeds unlocked the Cloud Bookcase
Doughnut Tree seeds unlocked the Cloud Mirror
Peach, Pear and Maple Tree seeds unlocked the Cloud Clock
Begonia and Forsythia seeds unlocked the Cloud Dresser
Tulip, Hyacinth & Hydrangeas seeds unlocked the Cloud Coffee Table
Holly Tree, Poinsettia & Watermelon seeds unlocked the Cloud Closet
Orange and Cherry Tree seeds unlocked the Cloud Couch
Beans, Tomato and Corn seeds unlocked the Cloud Chair
Fashion Tree seed unlocked the Cloud Fireplace
Candy Tree seed unlocked the Cloud Armchair
You could also get more Cloud Furniture from improving the Gardening Badge in your CyBearZone. Bronze Level 2 rewarded you with the Cloud Bath and Silver Level 2 rewarded you with a Cloud Bird Perch.
Community content is available under
CC-BY-SA
unless otherwise noted.