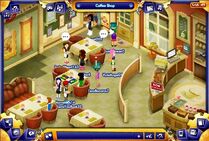 The Coffee Shop was a shop in Bearville located in the Furbulous Fashion District. Here, users could buy food for their character to eat which would go directly into their inventory; there was an entire menu to choose from.

To access the menu, users could click on this icon located on the front desk area on the right side of the screen; this would bring up a menu of all the available foods, as would sitting down at one of the seats in the shop.

From here, three dots would appear above your characters' head and this alerted any of the Coffee Shop staff to come and serve you. Only if you sat down could you be served by a staff member; if users clicked directly onto the menu icon they could buy any of the food and it would immediately appear in their inventory.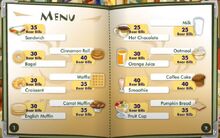 All food on the menu cost Bear Bills; the menu often changed slightly, though many of the items stayed on their for the entirety of Bearville. Menu items included:
Sandwich (35 Bear Bills)
Cinnamon Roll (40 Bear Bills)

Bagel (30 Bear Bills)
Waffle (35 Bear Bills)
Croissant (30 Bear Bills)
Iced Donut (30 Bear Bills)
English Muffin (30 Bear Bills)
Smoothie (40 Bear Bills)
Cookie (25 Bear Bills)
Fruit Cup (30 Bear Bills)
Carrot Muffin (35 Bear Bills)
Milk (25 Bear Bills)
Hot Chocolate (25 Bear Bills)
Oatmeal (35 Bear Bills)
Orange Juice (30 Bear Bills)
Coffee Cake (40 Bear Bills)
Pumpkin Bread (35 Bear Bills)
Peppermint Cake (40 Bear Bills)
Peppermint Biscotti (25 Bear Bills)
Heart Cookie (25 Bear Bills)
Sprinkles Donut (30 Bear Bills)

Starting in June 2009, users could work as a member of staff at the Coffee Shop and earn Bear Bills in the process. Users had to have 150 Bear Bills to spend in order to buy the required outfit and tray to become a worker. Once they did this, the outfit would appear in their inventory and they wouldn't have to purchase it again; however, users couldn't choose to have their character wear this at anytime, it could only be worn during your work shift.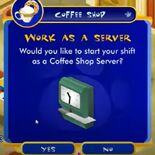 Clicking on the green clock on the right side of the screen brought up a menu asking if you'd like to start your shift as a server at the shop. Clicking yes would change your character into a coffee-shop outfit. After this, users could now serve customers in the store.

A 'statistics' menu would show up which showed users what tasks they needed to complete whilst working to earn a certain amount of Bear Bills. Users waiting to order would have a bubble above their head with '...' in it, though waiters had to wait for the '...' to turn to a '!' before taking their order and beginning to make the item for them.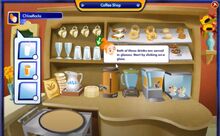 Once you clicked on the icon to serve a user, a screen would pop up where you had to go through and make each item that they had ordered. If it was your first time doing this, ChloeRocks would walk you through how to make everything.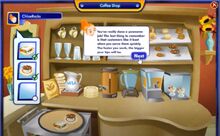 The more people you served during your shift, the more Bear Bills you could earn. Without serving anyone, users could still earn 2 Bear Bills a minute, though they could earn more by serving.
-
There was also a secret room in the Coffee Shop; clicking the cat painting on the left of the Coffee Shop lead you to the Top Secret Coffee Shop. Alongside this, there were three minigames that users could play whilst in the Coffee Shop: Tasty Treats, Pawsome Painting and CyBear Safety Challenge.
Minigames
Edit
Community content is available under
CC-BY-SA
unless otherwise noted.