Jurassic World: Dominion Dominates Fandom Wikis - The Loop
Play Sound
Cub Condos were houses that users could buy and customize in Bearville. There were many different designs to choose from, all of which ranged in prices. Users could only obtain their own Cub Condo after purchasing and bringing a Furry Friend to life in game. All Cub Condos were located in the Neighborhood area of Bearville.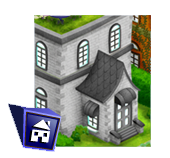 The basic design that users originally get when bringing their Furry Friend to life is the one pictured on the left. This was a simple, greyscale house which could be recolored by the user. The interior of each Cub Condo could also be completely personalized by buying furniture and decor from different places such as the LumBear Yard, the Bear Stuff Store, Bearville Outfitters and Store Fur all Seasons. Users could also win different items of furniture by completing different tasks or by bringing another Furry Friend to life, depending on what their add-on items were. 
Those users who were Jr. CyBearGuides could also shop for Cub Condo furniture and decor at the Jr. CyBearGuide Shop.
---
There were different areas of a Cub Condo that could be customize to the user's preference. These include Cub Condo Exteriors, Cub Condo Rooms and Party Rooms. Click on the links below for more information on each of these: