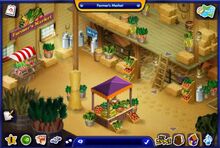 The Farmer's Market was a building in Bearville that opened in May 2012. Users could access this building either from the map or from clicking on the paw print leading to it in the Farm.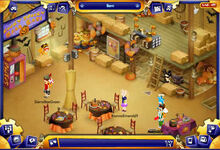 Before it was the Farmer's Market, this building was actually called the Barn. This had the same design and structure as the market, though there weren't any foods or Seeds to purchase and there were tables and chairs for your character to sit in, which would often be themed during special events such as Halloween. During Halloween, there would often be a Kooky-Spooky themed photobooth for you to take photos in of you and your Furry Friends.

When it first opened in 2012, users could be gifted a small little market of their own for visiting the market which could be placed anywhere in their Cub Condo. There were many special features available when the market opened; the market was rethemed due to the Farmer's Market themed collection that was just released in the BABW.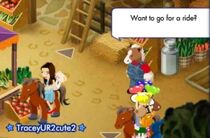 In the first few months of its' opening, there was a horse character stood near the entrance of the market; if you clicked on him, you could get a special horse ride for your character to roam around Bearville on. This was not a permanent ride and was lost once you returned back to the market. If users returned back within 5 minutes, they earned 100 Bear Bills and a special horseshoe gift for their condo.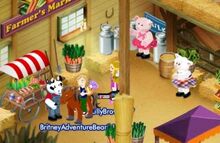 There were also three other characters near the back of the market for the first few months. By clicking on the cow, your character would recieve a free glass of milk to drink; you could do this daily to get milk each day. There was also a pig you could visit daily for some truffles and a sheep which gave out a wooly sweater for your character - though this was a one time thing.
If you clicked on the Farmer's Mini Market behind the cow, a catalog would show up on the screen which allowed you to choose from a range of different seeds to buy to grow in the City Garden or in your Cub Condo.

Alongside this opening, there were also many other features themed to this collection that could be purchased in Bearville. In the Bearville Outfitters and Pawlette's Coufur Boutique catalogs, there were new Farmer's Market outfits that users could purchase for their character. There was also a new tractor ride that you could buy for your character to drive around in.