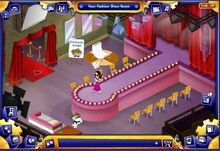 The Fashion Party Room was a party room for your Cub Condo on Buildabearville. This party room was unlocked by gathering a secret code from having your birthday party at Build A Bear Workshop. You could then unlock and invite others to your party room.
This room consisted of a runway in the centre, with seats to each side and other small details. The seats and stage were both accessible by users and allowed for the owners to host fashion themed parties.
Those who unlocked this party room also unlocked a Pink Evening Gown and a scarf for the girls and a white tuxedo for the boys. All users also recieved a Fashion move.