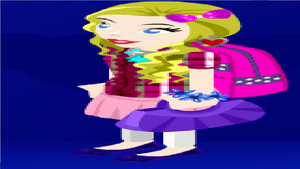 The Friendship Forest Charter School is an exclusive private school with grades Pre-k to College Prep. As this school is extremely hard to get into, only 90 students are currently attending. Experienced teachers will teach Math, Algebra, Geometry, Animal Studies, Science, Human Anatomy, Social Studies, Natural History, Human History, Scientific History, Writing, Typing, Reading, and Cooking. Some extra studies are Paleontology, Aetiology, Anthropology, Archaeology, Astrobiology, and Cosmetology. When students enter the school, they are required to take one of the extra studies. By doing this, they will shape their options for a future career.
School Uniforms
Edit
The school uniforms at Friendship Forest are decently specific. Girls are required to wear a girl's plaid oxford in any color, a layered, ruffle, or brown ruffle skirt in any color, Harijuku Girl pants, Dynamic pants, or other leggings in any color, jeweled ballet flats or high heels in any color, a turquoise/peace necklace or hobo bag in any color (hobo bag if the attendant does not have a backpack), Harijuku girl bow, rhinestone bow, or Design Star barrette in any color, heart earrings, a gingham backpack in any color, and any purse (optional). Boys are required to wear a woven plaid shirt in dark red, distressed jeans in dark blue or black, a neck tie in black, sneakers in any color, a classic backpack in red, and an apple notebook.
How to get in
Edit
First you must pay the tuition bill of 2,000 bear bills. Then you must take a 50 question quiz containing facts about your chosen extra study. If passed, you must host an interview at your cub condo with the principal. If all goes well, you will be accepted into Friendship Forest Charter School.
Schedule for all grades
Edit
After the bell rings, students will be encouraged to read a book chosen by the teacher and then quizzed on it. After reading, students will go to the Algebra classroom to study, you guessed it, Algebra. Then they will go to the Geometry classroom to study Geometry. Once finished, they will go back to homeroom to study other Math subjects. After math, they will be taught science, followed by Animal Studies or Human Anatomy. Human Anatomy is taught before spring break, while Animal studies is taught after. Then homeroom teachers will teach Social Studies. Then students will be sent to either the Natural History, Human History, or Scientific history, depending on what their extra subject is. After words, they will be sent to PE. Girls will be taught gymnastics, dancing, track and field, and/or cheerleading. Then they will go to the cafeteria to enjoy a gourmet lunch. After PE, they will be taught their extra study by a personal tutor. After extra studies, students will be taught writing, typing, and cooking. Then a personal limo chauffer will drive them and any siblings back home.