There were lots of different items of furniture that users could purchase or unlock in Bearville for their Cub Condo, Beachfront Home or Ski Lodge Homes. There were also several stores that sold furniture.

There were four different sections to furniture:
Normal items that stood on the floor (sofas, lights, beds, tables etc.)
Rugs and floor decorations
Wall decorations (posters, photographs, decor)
Flags to hang off the walls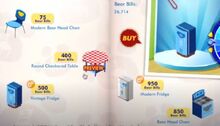 Users could purchase furniture from the Bear Stuff Store; here, everything was sold in Bear Bills, ranging in price depending on the size/exclusiveness of the item. Objects that your character could interact with often cost a lot more than items that were there just for show or items like chairs.
Most furniture could be colored to whatever the user preferred by spinning the color wheel on the right of the screen.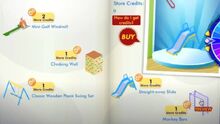 Users could also purchase furniture from Bearville Outfitters; everything here was much more exclusive and was sold for Credits instead of Bear Bills. These were usually all interactive items and less for decorating.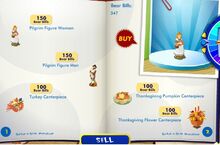 During special seasons such as Christmas, Thanksgiving, Halloween or St. Patrick's Day, users could also purchase furniture from the Store Fur All Seasons at the Market Place. This store sold decorative furniture that was completely themed to the season at the time. All of these items were sold for Bear Bills.
Community content is available under
CC-BY-SA
unless otherwise noted.