The Ice Cream Parlour was a store in Bearville located in the Bearywood Mall in Market Place. This was a food store that allowed for users to purchase food items from the menu, play minigames or work a shift to earn Bear Bills. The 'shift' that users would have to do was actually another type of minigame. Users could sit down in any of the chairs located around the room and chat to friends or eat their purchased food from their inventory.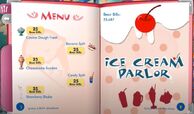 All of the food items on the menu were listed under the category 'consumables'; there were only two pages of food/drinks to choose from in this store, and every single one of them cost the same amount; 25 Bear Bills. Users could earn this money by playing the two minigames in the room or by doing other activities around Bearville. Unlike the menu from the Coffee Shop, this only had one side of the menu listing foods.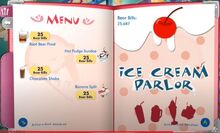 Cookie Dough Treat (25 Bear Bills)
Banana Split (25 Bear Bills)
Cheesecake Sundae (25 Bear Bills)
Candy Split (25 Bear Bills)
Strawberry Shake (25 Bear Bills)
Root Beer Float (25 Bear Bills)
Hot Fudge Sundae (25 Bear Bills)
Chocolate Shake (25 Bear Bills)

This room was one of 4 stores located in the Bearywood Mall, the other three being the Clothing Store, the Accessories Store and the Art Studio. Alongside buying food for your character, there were also two minigames to play here; one of them being classed as your work shift if you chose to work there. These were Sweet Treat Sorter and Super Scooper (the job-style minigame).

When the Ice Cream Parlour first opened, there was a shortcut to get there located in the Neighborhood; this was a small pink and yellow ice cream stand that could be clicked on to teleport there.
Minigames
Edit
Community content is available under
CC-BY-SA
unless otherwise noted.