The Jr. CyBearGuide HQ (Headquarters) was a room that users could go to in Bearville if they were a Jr. CyBearGuide.

This was an exclusive access room with lots of different things to do and was located in the Bear University alongside the Gymnasium, the Classroom and the Libeary.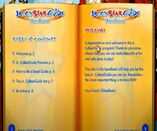 There was a large table to the left side of the HQ that users could sit around and talk to friends; on the table, there was a small book with a blue Jr. CyBearGuide star above it that users could click; this would bring up a new screen showing the Jr CBG handbook. There were many pages of the handbook (click on this link to see more: Jr. CyBearGuide) including the Jr. CBG promise and 'how to be a great guide'.

Close to the entrance of the HQ, there was a computer desk that users could click on which would take you to the Jr. CyBearGuide Store catalog; here, there were many different exclusive items such as hats, clothing, furniture and more that only Jr. CBG's could purchase. These were all purchased with Bear Bills.

By clicking on the bulletin board on the back wall of the HQ, a new menu would appear on your screen.

Here, there were different categories with different forums for users to look at and involve themselves in conversation; these two categories were News & Announcements and General Discussion. This was the place where users could often vote in polls in order to determine the outcome of something; for example, users once had to vote on which party rooms they would like to see be created for Cub Condo's, or what decorations they wanted to see at the Sock Hop event.

To the right of the screen, there were two chairs with a tv; if you clicked on this tv, it would allow you to choose from two exclusive games to play. These were Dodgeball and Color Slide and could only be played by those who had access to the HQ.
On the refrigerator, there was an information sheet on how to become the next Jr. CBG of the month; if you became one, these were displayed in the Bearville Times, on the front page of the website and more.

Users could also create their very own printable business Jr. CyBearGuide cards with their character on; it also had the day you joined the game on along with your username. These could be accessed by clicking the grey printer on one of the back desks in the HQ.
Users could access this HQ by going to the Bear University, though they could also get here by clicking on one of the Jr. CyBearGuide Phone Booths located in either the Furbulous Fashion District or the Neighborhood. These would teleport users - if they were a Jr. CBG - directly to the HQ as long as they were wearing their special hat. Users could recognise these phone booths as they had a blue star on the top of them.
Minigames