During October 2009, a new quest was put out to help the newly introduced Virtual Friend, Kooky Spooky Kitty. At the end of this quest, users were rewarded a prize.
To begin the quest, users would open their PDA and receive a message from Kooky Spooky Kitty saying that a friend of Kitty's lost their Trick or Treat pumpkin, and Kitty needed help finding it for them.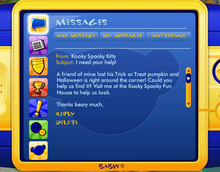 Walkthrough
Users would then have to find Kitty at the cave and click on her to officially begin the quest.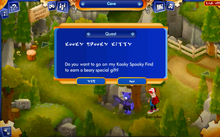 Kitty hid 5 black bows around Build-A-Bearville and users would have to find all 5 in order to redeem their prize.

One of the locations for the black bow was on the Bear Statue at Friendship Forest Park
Users would get a pop-up message saying "Pawsome Job! You found one!" After every bow they discovered.
Reward
At the end of the quest users would receive a Kooky Spooky Emoticon for their character to use. This could be found in their Emoticon section on the bottom of the screen.