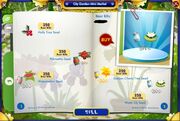 Seeds were interactive items that players could purchase, plant, grow, and harvest. They were first introduced for Arbor Day on April 24th, 2009.[1][2] Seeds could be purchased for typically between 100-300 Bear Bills from the LumBear Yard, the City Garden Mini Market, or the Farmer's Mini Market. Seeds could be planted at a player's Cub Condo in any room with a soil patch. Rooms with soil patches included the Cub Condo Exterior, the Sun Room, and the Backyard. They could also be planted in a player's garden plot at the City Garden.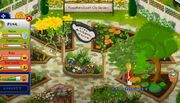 Seeds had to be cared for in order to be harvested. After choosing a seed from the furniture section of the My Stuff inventory, clicking on it and placing it on the ground while outside, the seed was planted and ready to be tended to. By clicking on a plant in the ground, a player was presented with a menu that showcased the plant's health and growth progress in the form of energy bars. Players needed to purchase 4 different gardening items from the LumBear Yard in order to care for their plant properly and fill these energy bars: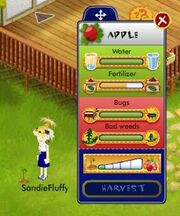 Watering Can: watered the plant and filled the Water energy bar
Trimmers: cut away weeds and filled the Bad Weeds energy bar
Fly Swatter: removed bugs around plant and filled the Bugs energy bar
Fertilizer: added fertilizer to soil and filled the Fertilizer energy bar
These tools were stored in the "???" section of My Stuff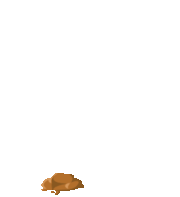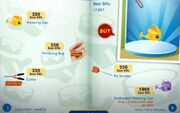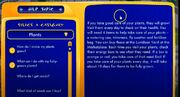 Players could take any 3 of these gardening item actions a day to care for any one plant. After their 3 actions were completed, players could ask friends to care for the plant too.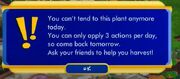 The bottom bar of the plant care menu displayed which level your plant was at. After reaching level 5, the plant could be harvested. If a player cared for their plant everyday, it would take about 10 days for the plant to be ready to harvest. Once harvested, players typically received furniture items in the form of a basket or box of the food they had grown. These baskets were interactive and allowed players and their Furry Friends to eat the food inside of them if they were clicked. These harvest prizes could also be sold for Bear Bills.[4]
Bear Bills and seeds would also be randomly awarded to players for caring for their plant.[5]
There were a couple special seeds that unlocked rooms that could be accessed after the plant was harvested. These were the Treehouse and Cloud Room. If a player owned a Cloud Room, harvesting various seeds gave them a chance of receiving a piece of Cloud furniture.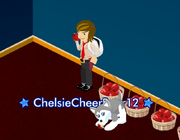 Types of Seeds
Image
Name
Harvest Prize
Where to Get
Apple Seeds
Beans Seeds
Begonia Seeds
Candy Tree Seeds
Obtained after

earning a Level 1

Bronze Garden Badge

Corn Seeds
Cherry Seeds
Disco Ball Tree Seeds
Donut Tree Seeds
Abbie Bright's
Evergreen Tree Seeds
Fairy Tree Seeds
Fashion Tree Seeds
Girl Fashion Shoes
-LumBear Yard

-Farmer's Mini Market

-City Garden Mini Market

Potted Forsythia Seeds
Golden Cherry Tree Seeds
Green Apple Tree Seeds
Obtained from Bearemy

on Independence Day

2009

Holly Tree Seeds
Hyacinth Seeds
Hydrangea Seeds
Ice Tree Seeds
Magic Bean Seeds
Cloud Room,
Given to players who

visited the City Garden

between April 10-May 6

Maple Tree Seeds
Obtained from Pawlette

on Canada Day 2009

Mum's Seeds
Orange Seeds
Peach Seeds
Pears Seeds
Poinsettia Seeds
Pumpkin Seeds
Rose Bush Seeds
Spooky Tree Seeds
Sunflower Seeds
Tomato Seeds
Treehouse Seeds
Tulip Seeds
Water Lily Seeds
Watermelon Seeds
Gardening Tools
| Image | Name | Price | Where to Get |
| --- | --- | --- | --- |
| | Cutter | | |
| | Enchanted Cutter | | |
| | Enchanted Fertilizing Bag | | |
| | Enchanted Fly Swatter | | |
| | Enchanted Watering Can | | |
| | Fertilizing Bag | | |
| | Fly Swatter | | |
| | Watering Can | | |
References