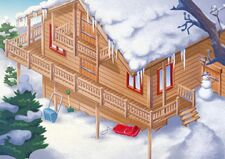 Ski Lodge Homes were vacation homes introduced during the Christmas celebrations in 2009 in Bearville. They were available for users to purchase for 10 Credits at the Bearville Outfitters store. Once purchased, players could access their ski lodge home by travelling to it from the Train Station. A trip on the train would take you to the Ski Lodge Train Station. From here, players would be able to go to their home or visit others.
The Ski Lodge homes were in the mountains away from Bearville and surrounded by a beautiful snowy landscape.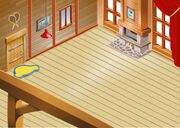 Once purchased, users had access to both the exterior and interior of the Ski Lodge Home. There were two other purchasable rooms for the home that users could purchase at Bearville Outfitters for 3 Credits each:
These homes were most advertised during the Holiday season throughout the Bearville Times. Ski Lodge Homes, like other purchasable player homes, could be decorated with furniture by the owner.
Gallery