The Store Fur All Seasons was a store in Bearville located in the Market Place alongside Bearywood Mall and the LumBear Yard. This store was rarely open in Bearville; it only appeared to open when a special seasons came around. These seasons could be Valentine's Day, St. Patrick's Day, Christmas, Halloween, Easter or Thanksgiving. This store mainly sold Furniture for your Cub Condo, though it did occasionally sell accessories for your character too. Most of the items were in Bear Bills, though there were the occasional items that required Credits.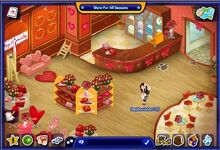 When these seasons came around, the store would be completely transformed to fit the theme of the event; new themed furniture would be placed around the room to show off what was in the catalog. To open the catalog, users could click on the paw print near the front desk of the store. There were seats in the bottom right corner that always stayed in the same place, though these were themed correctly.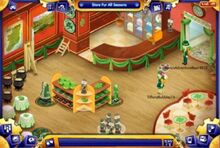 There were no items in this store that weren't themed; this helped users decorate their halloween-themed rooms such as the Kooky Spooky Room or the Spooky Den, or their Heart Shaped Room for valentines.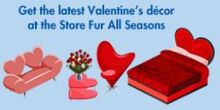 When new items arrived and the store opened, there would often be advertisements in the Bearville Times or around Bearville letting users know that it was open. They would also often show off some of the news items in these advertisement to get users' attention.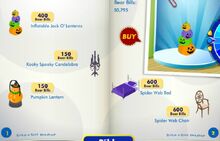 Some items that were sold at the Store Fur All Seasons included themed beds, themed decorations and themed chairs. The furniture sold here could often not be colourised by the user and were in set colours, however the occasional few could be. This wasn't usually an issue though as all the themed furniture had colours that matched the theme, making it easy to coordinate your condo rooms.
Community content is available under
CC-BY-SA
unless otherwise noted.