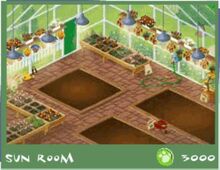 The Sun Room was a purchasable room for your Cub Condo in BuildaBearville. It cost 3000 Bear Bills and could be purchased at the LumBear Yard in the Market Place. The Sun Room was a limited edition room which was introduced around March 2010 and soon after this was removed from the LumBear Yard.
The Sun Room was a room where users could plant seeds that they bought from the City Garden Mini Market. There were 3 different soil patches to grow flowers or trees; users could also grow their Condo Tree House there. It was basically a greenhouse for your Cub Condo. The walls and floor could not be customised in terms of colour or patterns by the user and so were the same for every Condo.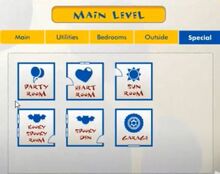 The Sun Room was on the main level of the condo under the 'Special' section alongside Party Rooms, the Heart Shaped Room, the Kooky Spooky Room, the Spooky Den, the Garage and other special rooms that users could buy or obtain.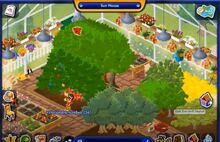 Users could click on any of their plants in the Sun Room to water them or harvest them once they had finished growing; these could then be used in outdoor Condo rooms or - if it was a fruit plant/tree - the fruit could be added to your food inventory. Harvesting the plants allowed for new space to plant even more trees/plants.
Community content is available under
CC-BY-SA
unless otherwise noted.