Town Square was one of the main places in BuildaBearville. It consisted of 4 different buildings that users could enter. This is also the place where new users are brought at the start and are made to go through a Bear Head Tutorial in order to get used to the game.
Near the bottom of the screen there is a fountain; this fountain usually had a coin on it to enter the minigame Furtastic Fountain.
The four buildings in Town Square consist of:
There was also a trampoline at the side of Bearville Outfitters which lead to a Secret Place: the Bearville Outfitters Rooftop. This was originally called the 'Bearville Boutique Rooftop', which was the original name of the shop before it took the name of Bearville Outfitters.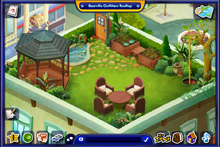 At the beginning of Bearville, Town Square only consisted of Bear Stuff Store and Build-A-Bearville Workshop and BNN and Bearville Outfitters were just fill-in buildings that users could not go into. However, over time the two stores opened and slowly their designs changed over the years to become what they were in 2015.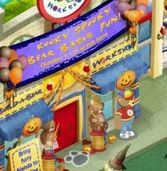 During Halloween, we could also see a 'Kooky Spooky Bear Bash Fun' banner draped over the top of the Build-A-Bearville Workshop to promote the Halloween event. This wasn't there every year, though it started in September 2007.
We also see Bearemy outside of the Build-A-Bearville Workshop, where he stayed throughout the years and provided help if you clicked on him.
Buildings
Edit
Minigames
Edit
Community content is available under
CC-BY-SA
unless otherwise noted.