The Train Station is a location in Bear Ville where citizens can go on a train to go to places (usually not acessible through the map) such as The North Pole or the Waterfall Train Station.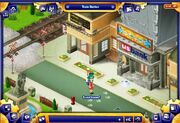 Background
Edit
The Train Station was first made when The Chloe Show was going to the North Pole to interview a moose. So that citizens could go there and visit Santa and Mrs. Clause, Hal and Holly Moose, and Santa's Workshop themselves, the Train Station was made so that they could ride the train there.
After The Chloe Show finished playing its North Pole show, the Train stopped going to the North Pole so Santa could start preparing for the next Christmas.
For a while it had no destination, until the 2009 Camp Happy Heart arrived and you could ride it to the Waterfall Train Station and it is still taking passengers there.
The Train Station can be accesed through the Map on the upper left corner by clicking the text: Train Station, or when in Bear University you can click on the arrow closest to the Gymnasium. Once at the Train Station look at the animated sign with the time left to arrival (labeled ARRIVAL) and time left to departure (labeled DEPARTURE). When the arrival time reaches 00 seconds the train will pull into the station. When a pawprint appears in front of the train click on it. After you character walks there, you will be asked if you want to board the train. If you click YES wait for the departure time to reach 00 seconds. After that, the Train Engineer (who is a bear) will pull the rope to honk the horn. The Train will start to move and the bear engineer will look at you and wave. A video will start showing the train going to the programmed destination. If you want to skip this video click SKIP in the lower right corner. The Train is now at the Progammed Destination!
Inhabitants
Edit
Any citizen who choses to go to the Train Station will be there.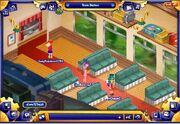 U.S. Bank of Build-A-Bearville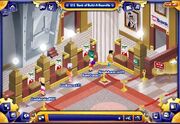 Resources
Edit
Usually, something can only be found here if it's placed there by a Quest.
External links
Edit
[1] Build-a-bear ville login page
Community content is available under
CC-BY-SA
unless otherwise noted.