Jurassic World: Dominion Dominates Fandom Wikis - The Loop
Play Sound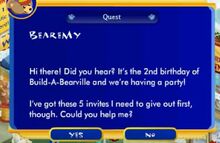 At the end of 2009, Bearville celebrated its' two year anniversary as a game; for this occasion, there was a new quest for users to complete to earn a prize.
To begin the quest, users had to go to Town Square and click on Bearemy, who was stood outside of the Build-A-Bearville Workshop. Clicking on him brought up a new menu which stated that for Bearvilles' 2nd birthday they were hosting a party and you had to give out five invitations to different people around the world.

Walkthrough
The first menu stated that the first invitation was for Pawlette Coufur. Users had to go to the Furbulous Fashion District and click on Pawlette to give her an invitation. A new menu then popped up from Bearemy saying that the next invitation was for Brown Sugar Puppy at the Skate Park.


Users then had to go over to the boutique and click on Ted; he exclaims his excitement and states it will be the party of the year. Another menu pops up stating that the next invitation was for Pawsome Panda at the Sportsplex.

Users had to go to the Sportsplex, which was decorated for the Christmas celebrations, and click on Pawsome Panda. Finally, the last menu popped up which stated that the final invitation was for Cheetah at the Libeary.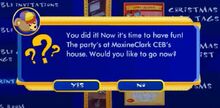 This message stated that users had to go to Maxine Clark's Condo to join in the party! You could click on the 'Yes' button to be teleported straight to the party, or you could choose to not go.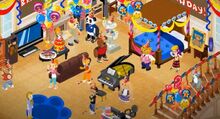 When at the party, you were surrounded by lots of different people, including everyone you invited to the party.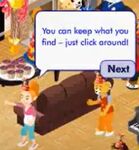 There was music playing in the background and everyone was dancing to it before ChloeRocks began to speak and let you know that if you clicked on random items around the room, you may be able to keep them for yourself. For example, if users clicked on one of the cupcakes found around the room, it would automatically be added to your inventory for your character to eat.
Reward
When the quest was over, users received several exclusive gifts! These included a free '2nd Birthday Emoticon', a Party Dance Move, a Party Punch, a Party Cupcake and a 2nd Birthday Hat.